Bernie Baran's Fight For Freedom
[From the December 2004 issue of The Guide. Editor French Wall. Fidelity Publishing, POB 990593, Boston MA 02199-0593. email:theguide@guidemag.com. 617/266-8557 fax:617/266-1125] [Copyright 2004 by Jim D'Entremont. Anyone may link to this page without explicit permission. Requests to repost all or part of this article on electronic systems serving fighters for justice are encouraged. All repostings must retain this copyright notice in its entirety. Send permission requests to us at bob@freebaran.org.]>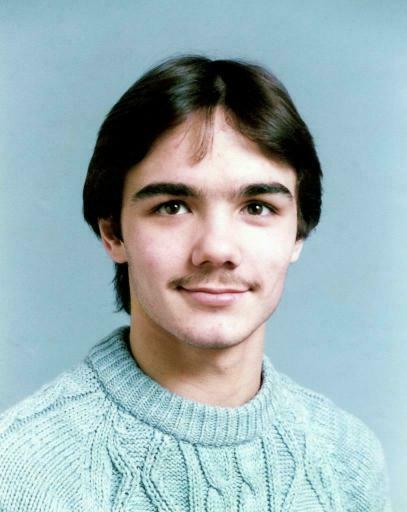 In October 2004, Bernard Baran passed the twentieth anniversary of his incarceration.
Two decades earlier, the openly gay, 19-year-old teacher's aide was arrested on fictional charges of child rape.  Sentenced to three concurrent life terms, he remains behind chain link and razor wire at an institution for "sexually dangerous persons" while lawyers struggle to overturn his conviction.  He has now spent more than half his life in correctional institutions.  He has never had an adult life outside prison.
Last June 16, Boston attorney John Swomley walked into the Berkshire County Courthouse in Pittsfield, Massachusetts, and filed Baran's motion for a new trial.  Bursting with notes and appendices, the motion is the size of the Boston telephone directory.
The document refutes previous "expert" testimony and cites recantations by three of Baran's alleged victims.  It also identifies a host of violations, lapses, and blunders in Baran's January 1985 criminal trial: ineffective assistance of counsel, suggestive interviewing of child witnesses, withholding and mishandling of evidence, contempt for due process, and misconduct by prosecutors headed by Daniel A. Ford.  An Assistant D.A. in 1984-'85, Ford is now a Superior Court judge and one of the principal power brokers of Berkshire County.
Written by appellate lawyer Pamela Nicholson with input from Swomley, criminal lawyer Harvey Silverglate, and other attorneys, Baran's new trial motion took nearly four years to complete.  Its development was hindered less by the scope of the material than by stonewalling on the part of two successive Berkshire County District Attorneys.  As of this writing, evidence pertinent to the politically sensitive case remains missing.
Most documentation of the grand jury session resulting in Baran's indictment, a proceeding thought to be seriously flawed, cannot be found.  The law firm of Cain, Hibbard, Myers & Cook, which handled Baran's appeal, admits to having burned all Baran records in its possession, including material that may have been unique.  (Case files are legally supposed to be kept for the life of the inmate, but the exigencies of housekeeping seem to have prevailed over legal niceties at Cain, Hibbard.)  Much of what the attorneys have been seeking is simply evidence that was or should have been available to Baran's original attorney at the time of his trial.
The Berkshire County D.A.'s office has offered only minimal cooperation, usually in the context of court hearings, for four years.  Failing to obtain access to case records through conventional bureaucratic channels, Swomley invoked the Freedom of Information Act (FOIA).  When Acting D.A. David Capeless turned down his FOIA petition, Swomley filed suit.
Then, on September 14, Capeless won the Democratic primary race for Berkshire County D.A., assuring his election in November, when he would run unopposed.  The next day, the embryonic District Attorney contacted Swomley with news that a box of Baran evidence had just happened to turn up.  At a September 17 court hearing, Capeless relinquished four videotapes and a fragment of grand jury minutes.  To deflect a potentially embarrassing lawsuit, the Acting D.A. decided to comply with Swomley's FOIA requests.  Outside the courtroom, Capeless invited Swomley to view additional material at his office in late October.
One year earlier, at a hearing that would be his last court appearance in the Baran case, Capeless's predecessor Gerard Downing had surrendered, after 33 months of wrangling, one eight-minute videotape -- edited down from its original 45 minutes -- depicting portions of a therapist's interview with one child.  (Three girls and three boys, aged three to five, were named in the case.)  Downing, who had insisted upon keeping taped interviews under wraps to protect the children's privacy, admitted that the videocassette had just been retrieved from the apartment of a former colleague who had brought it home to use as a visual aid in training interrogators.
Perhaps impatient with Downing's pattern of stalling and equivocation, Judge Francis Fecteau granted Baran's legal team a degree of subpoena power unusual in criminal cases.  Swomley immediately subpoenaed records from an array of law firms and agencies holding various pieces of the Baran puzzle -- police notes, health records, more taped interviews, other pertinent data.  Progress, it seemed, was at last being made.
More obstacles arose, however, in December 2003, when Downing suffered a fatal heart attack.  Named as Downing's replacement, David Capeless pointedly avoided the Baran case for several months, often with the aid of his sister-in-law Deborah Capeless, the Berkshire County Clerk of Court.
Meanwhile, lawyers on both sides of civil suits filed by parents after Baran's conviction agreed to turn over documents, but only if explicitly directed to do so by a judge.  The Massachusetts Department of Social Services consented to provide files under similar conditions.  Judge Fecteau issued the appropriate orders in late September.  Much of this material -- caches of documents, audiotapes, and videotapes -- has already been handed over to Swomley and is being examined.
Swomley has reviewed the newly obtained videotapes, whose identifying contents are sealed by a protective order.  It is known, however, that most of the tapes are unedited.  Comparison with unedited tapes and transcripts show that the edited versions omit leading questions, pressure tactics, and incentives for "right" answers.  Untrained interviewers used "anatomically correct" dolls, a practice now considered forensically worthless and ethically questionable.
The videos show information being manufactured.  One child whines, "When do I get my prize?"  A second child is far more interested in playing with a toy truck than in the penis-equipped doll his inquisitor keeps thrusting at him.  A third cannot remember what she is supposed to say until her mother intervenes and helpfully walks her through the scenario they developed at home.
Baran was indicted by a grand jury whose members were shown, among other misleading evidence, what Swomley describes as a "compilation of naughty bits" -- a series of heavily edited selections from videotaped child interviews.  "Scientific" evidence amounted to little more than a local pediatrician's belief, since discredited, that one girl's normal vaginal irregularities could have resulted from penetration by adult fingers or a penis.  There was also the matter of another child's positive gonorrhea test.  But as long as grand jury records remain missing, no one will fully understand the logic behind Baran's indictment on five counts of rape and five counts of indecent assault and battery.  (A sixth count was added later.)
What happened at Baran's seven-day trial is, by contrast, all too clear.  Courtroom rehearsals began for the children six weeks before criminal proceedings got underway.  But at a preliminary competency hearing, the parade of child witnesses failed to show they knew fact from fiction.  At the actual trial, the children were not placed under oath, but asked, "Do you promise to tell what happened?"  They were seated on the floor below the lawyers' table, where Baran could not see or hear them, and they could not see Baran.  Their testimony was devoid of content whenever it strayed from canned statements.  Assistant D.A. Ford attributed their reticence to fear.
Paul Heath, the first accusing child, denied being abused and responded to most questions with obscenities or silence.  As a result, he was dropped from the case.  The prosecution's references to this boy in closing arguments were permitted by Judge William Simons and left unchallenged by Baran's defense counsel, Leonard Conway.  Hired on a $500 retainer, Conway let breaches of due process slide by without comment.
Hearsay testimony and innuendo were freely allowed.  When Ford brought in a physician to assure jurors that gay men were a principal source of gonorrhea, the Heath boy's positive gonorrhea test trumped Baran's negative test result.  Ford hypothesized that Baran must have cured his own venereal infection on the sly.  The fact that Baran is allergic to penicillin made no difference.  Ford portrayed Baran to the jury as a diseased, predatory untermensch who prowled the gay bars of nearby Albany, New York, by night and spent his work days at the preschool acting "like a chocoholic in a candy store."
After the prosecution rested its case, Ford offered Baran, for the third and final time, five years' detention in minimum security in exchange for a guilty plea.  Insisting on his innocence, Baran refused to comply.  When the jury found him guilty on all counts, Judge Simons remanded the slightly built, asthmatic teenager to the maximum security prison at Cedar Junction, a repository for violent felons.  Four days later, Baran sustained the first of many rapes.
Baran's mother and his then-boyfriend raised $10,000 for an appeal, turning to the most prestigious law firm in Berkshire County -- Cain, Hibbard, Myers & Cook.  They did not know that immediately after Baran's sentencing, the mother of one of the alleged victims had retained Cain, Hibbard to begin the process of suing ECDC for $750,000.  Cain, Hibbard attorney Donald Burbank's signature appears on letters written in early February 1985 to Daniel Ford and a local pediatrician, requesting Baran evidence.  Although the child's mother later changed lawyers, her lawsuit, one of three, resulted in a modest out-of-court settlement that included a small payment to Cain, Hibbard for its services.
Eight months later, Burbank, who never disclosed his prior involvement with the ECDC lawsuit, worked on Baran's pro forma appeal.  At some undetermined point following the failure of that appeal in 1986, Cain, Hibbard employees illegally destroyed the firm's Baran file.
Shunted from prison to prison and frequently brutalized, Baran grew increasingly despondent.  In 1988, he slashed his wrists.  Following this episode, he was sent for evaluation to the Treatment Center for Sexually Dangerous Persons at Bridgewater, Mass., a facility then under the aegis of the Department of Mental Health.  Seeking a safer environment, Baran submitted to a psychiatric interview that secured his civil commitment to the Treatment Center.  Baran insists he has never admitted guilt, but his placement at the Treatment Center is predicated on an alleged confession of culpability.
In the early '90s, the Baran case reached a turning point when Jocelyn Sedney, an attorney representing ECDC's insurer, conducted an investigation.  Sedney learned that at least one of Baran's alleged victims had recanted to a therapist, and that the information had been withheld from Baran's defense attorney.  (There are now known to have been three recantations, most recently in the late '90s when one of the children, then a teenager, told a class about obtaining money in a lawsuit after having falsely accused a gay teacher of sexually assaulting him.)
Sedney also learned that Paul Heath, the boy who tested positive for gonorrhea (according to a test now known to be unreliable), had made a relatively credible disclosure of sexual abuse by one of his mother's boyfriends.  The disclosure occurred in January 1985, and was substantiated while jury selection was in progress on the eve of Baran's trial.  The DSS report revealing the allegation, which was never acted upon, was apparently withheld by the D.A.'s office until after Baran's trial had ended.
Sedney referred the case to a lawyer who accepted it pro bono but never attempted to move the case forward.  Sedney's discoveries went nowhere until 1999, when John Swomley entered the picture.
Baran now works as a baker in the Treatment Center's staff kitchen.  Therapists there have agreed that he shows no evidence of sexual attraction to small children.  Dr. Barbara Schwartz, longtime director of treatment at Bridgewater until 2002, has supplied Baran's lawyers with an affidavit stating her belief in his innocence.
D.A. Capeless requested and received 120 days to review the Baran's new trial motion.  On October 26, he presented Swomley and Judge Fecteau with a 27-page written response that relies heavily on precedents set during another, equally dubious Massachusetts daycare case.  (See box.)  Judge Fecteau will begin hearing arguments for and against a new trial on December 28.
The case is being heard in Worcester, a city closer to Boston than to Pittsfield.  Judges in Berkshire County recused themselves from the case because it involves Judge Daniel A. Ford.  Ford, a devout Catholic who is tough on sexual transgressors, is also a lifelong bachelor who turns up at theatres and restaurants with younger men who seem to be his dates.  He is widely perceived as gay.  If Baran is granted a new trial, Ford has a great deal to lose, both personally and professionally.  Behind Capeless looms the specter of Ford.
Despite progress in the case, Baran finds optimism hard to sustain.  "The support I'm getting brings me hope," he says, "but people want me to trust the system that convicted me.  I've been around that system for too long to be sure we can win.  It's hard to let myself feel good about anything.  It's like I've got this dark spot inside and it keeps getting ready to grow and engulf me.  If we lose, it will feel like being sentenced all over again.  I don't know how I can live through that."
Note: More information about the Baran case can be obtained at the Bernard Baran Justice Committee website, www.freebaran.org.